Peace lives beyond "Palpak" Congress
The administration may have given up, but groups continue the pursuit for peace, calling to institutionalize a Bangsamoro Basic Law compliant to the Comprehensive Agreement on the Bangsamoro (CAB).
Hundreds of members of peace groups, network of Bangsamoro including women and youth, and faith-based organizations show their disapproval yesterday, during the plenary. The House was taken by surprise when numerous attendees including Moro women in hijab remove their top to bare their T-Shirts that say it all: 16th Congress Palpak sa BBL.
SURPRISE. Moro women wearing hijab show their courage during the plenary by baring a T-Shirt undernead their garments that states what they think about the Congress on junking BBL. Bangsamoro groups and peace network push for CAB-based BBL, which will not only facilitate just and lasting peace but will also recognize right to self-determination and other rights of Moro and non-Moro IPs in the Bangsamoro region. 
A week before the adjournment of its plenary session, the 16th Congress itself has given up for lost major bills mainly because of its inability to form a quorum, including BBL and Freedom of Information.
"We watched with disgust as the House members slaughtered what has been put together all these years to acknowledge the rights of our brothers and sisters, Moro and non-Moro Filipinos in the Bangsamoro" the statement distributed during activity read (Download the statement from this link).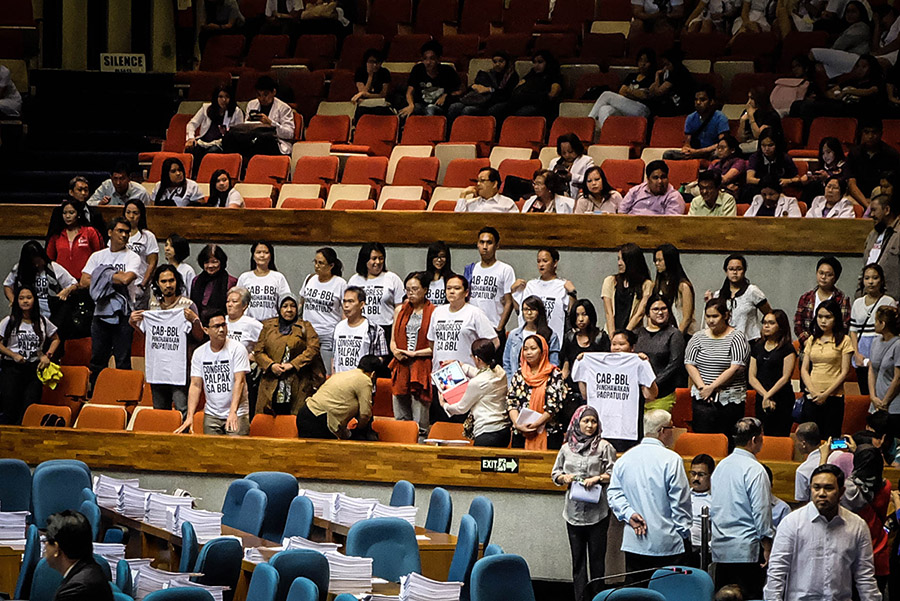 The group also expressed their frustration that after promises from several members of the Congress to support the bill, majority did not even attend the session. In a statement signed by several organizations, the group promised to not back down.
"We continue to push for peace for the Bangsamoro, and to be instruments of genuine social change so that every member of society will be recognized and the rights of every member of every are respected: their rights to education, employment, access to basic social services, and to live in a safe and peaceful community away from aggresion and armed conflict; for all to be part of this one country where the citizens of the Bangsamoro can feel that they are part of the Philippines, at par with the rest of the country, " the statement said.
Organizations present include the Alliance of Bangsamoro Organizations for Peace and Development (ABOPAD); ALL OUT PEACE!; Al Mujadila Development Foundation (AMDF); Balay Rehabilitation Center (Balay); BAWGBUG Advocates for Peace and Human Rights; Center for Peace Education (CPE); Community Organizers' Multiversity (COM); Consortium of Bangsamoro Civil Society (CBCS); Gaston Z. Ortigas Peace Institute (GZOPI); Generation Peace Youth Network (GenPeace); International Initiatives for Dialogue (IID); Mindanao Peoples' Caucus (MPC); Mindanao Solidarity Network (MSN); National Anti-Poverty Commission (NAPC) NGO Sectoral Council; Nisa Ul Haqq fi Bangsamoro (Nisa); People's Alternative Study Center for Research in Education and Social Development (PASCRES); Philippine Misereor Partnership Inc. (PMPI); PILIPINA- Ang Kilusan ng Kababaihang Pilipino; Tarbilang Foundation; United Youth for Peace and Development (UNYPAD); United Youth of the Philippines (UNYPhil)- Women; Urban Poor Associates (UPA); Women Engaged in Action on UNSCR 1325 (WE-Act); Women's Peace Collective.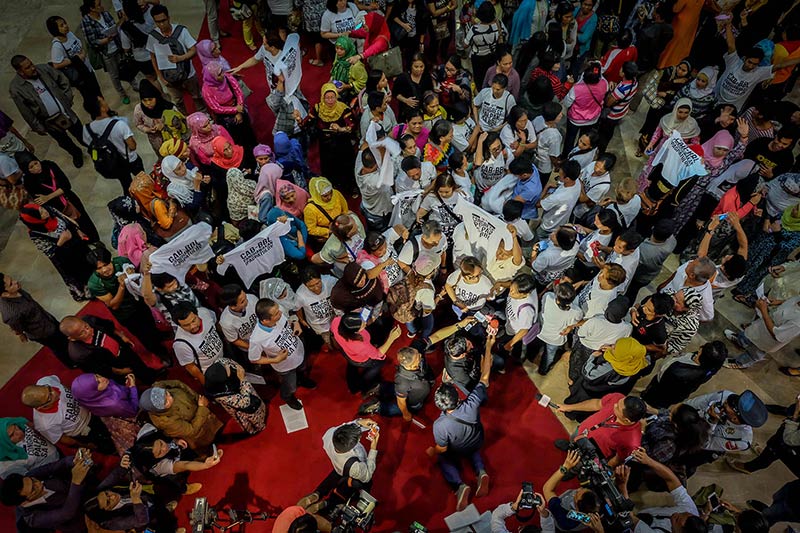 OUR CALL. Groups continue airing their sentiments with the national media groups after being ushered out from the plenary.
We commit to Peace
"For us, this defeat is just temporary.  We will start anew. The playing field is even leveled: we now know who are the better public servants," Shalom Allian of  Nisa Ul Haqq fi Bangsamoro, said.
She emphasized that her group, a network of Moro CSOs, advocating for gender justice in the context of Islam, is only fueled to work harder to be more visible in calling for the recogniton of the rights of the Bangsamoro region.
"We will continue to ensure that the Comprehensive Agreement on the Bangsamoro will be carried on whoever gets elected," said Badrudin Ali of United Youth for Peace and Development
He added that now the landscape is almost transparent.
"We in the Bangsamoro, now have a clear choice who to vote for this coming election," he said.
Philippine Misereor Partnership Inc. (PMPI) National Coordinator Yoly Esguerra, who has been actively supporting CAB-based BBL, shared her dismay during the mobilization and criticized the members of the House for not attending the last sessions to engage in discussions as part of their responsibilities.
"BBL was put to waste because of the dismal performance of the lawmakers, who never even bothered to engage in intelligent and informed debates on BBL during plenary sessions. Thus, the challenge is even greater for the electorate," she said.
She calls the attention of voters to be critical in choosing the next leaders: one who can diligently represent their voice in all the issues being discussed in Congress.
"Someone who will not be an absentee," she stressed.
Boy Nuera of PASCRES shared that even without the BBL, peace groups and the Bangsamoro region still have the CAB to hold on to.
"We will continue to push for the realization and implementation of CAB. We will be ready to pursue the path to peace in Mindanao no matter what it takes,)" he furthered.
Beth Yang, National Coordinator of Pilipina said that the peace groups surely learned lessons from this "bitter" experience.
"We will return for the 17th Congress with a louder call, better understanding, even deeper commitment, and more unified support for the enactment of a law that will bring just and lasting peace in Mindanao," she said.