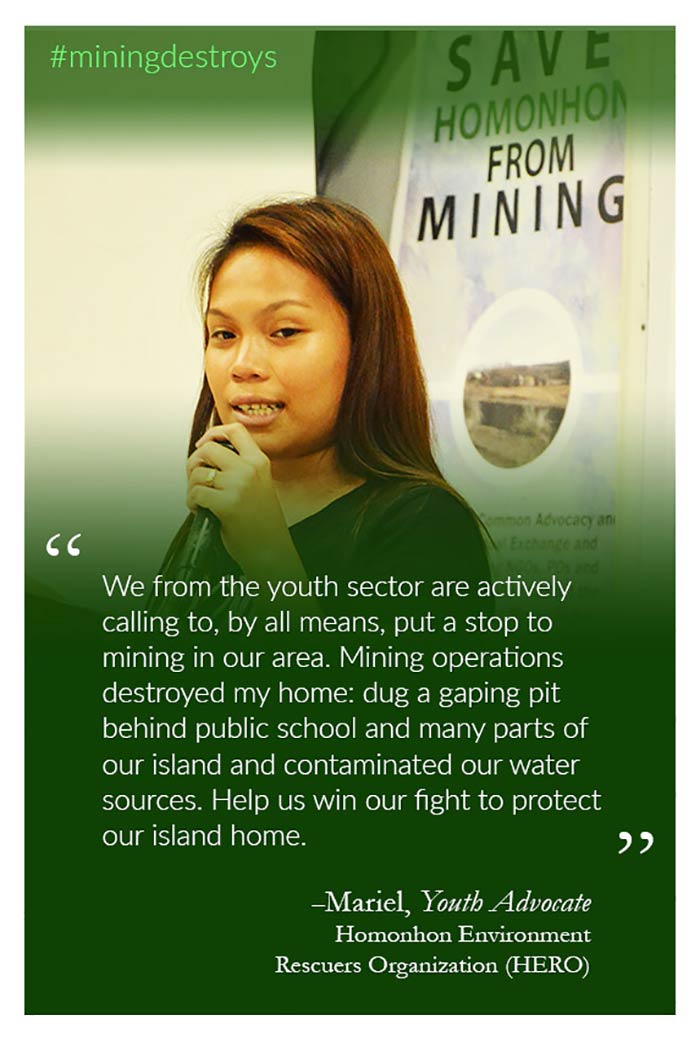 Something is to be said when a mining firm intentionally ran over small boats of the fisherfolks of Manicani, for the second time. The first was only last December, with the similar intent: to haul heavy equipment into the island and continue their mining operation.
Jade Badilla, a youth member of Save Manicani Movement (SAMAMO), along with other residents was aghast to see the same horror happening again.
"This is our home," Badilla said. "Strangers are coming over to destroy our humble island home. Isn't it our right to keep them from doing it?"
Headed by SAMAMO, an organization that promotes the protection of Manicani Island against harmful effects of mining, the residents of Manicani lined up their boats to show their stand against the entrance of mining companies in the island.
"We have done this before," recounted Badilla. "Using our boats, which we use for our livelihood, we have formed a fence to show that we do not allow Hinatuan Mining Corporation (HMC), or any other miners to come in destroy our environment."
Badilla explained how he still cannot understand the persistence of the mining company in running over their rights as residents of
Manicani.
"We have suspension order against the mining company from entering our area," Badilla explained. "But we are right on not being complacent on simply having the paper because the mining company is resolved in not recognizing our right as inhabitants of this
 island: as natives of this island. They are back and this time, they are even more insistent."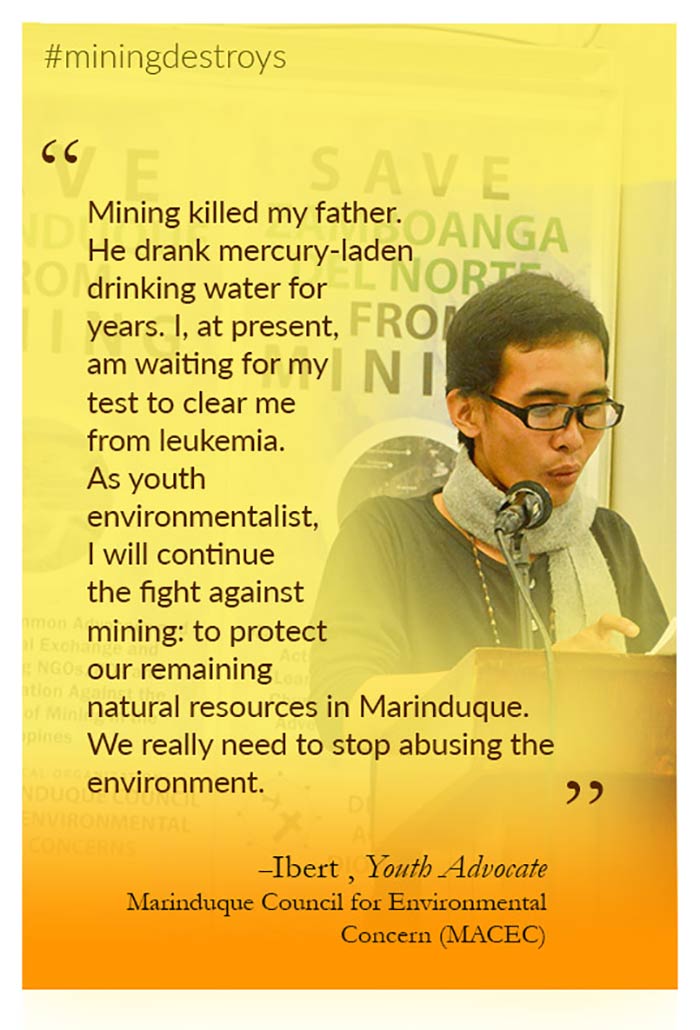 The Department of Environment and Natural Resources (DENR) released a suspension order in 2011, in connection with the complaint filed by the Diocese of Borongan detailing the environmental hazards posed by the operations of HMC. HMC is a subsidiary of Nickel Asia.
"The event only motivates us in being more firm and vigilant to stand against the mining company," Badilla shared. "Mining will destroy our seas and mountains, kill our fishes, ruin our homes. Our livelihood and environment will be lost if we let them in."
Badilla a recounted how mining issues have even caused fight among families in their area. He explained that people were mislead to believing this will help the island's economy. But to their dismay, when HMC started operation in the 1980s, the island has since experienced fishkill, flooding, flashflood and mudslide.
"We almost have nothing left to protect us," said Badilla. "When typhoon Haiyan passed us, we were almost swept away. HMC destroyed our covers. Floods and mud rushed to our houses. HMC did not even feel the storm's wrath because what they destroyed was our home."
Badilla ended his story by asking for the government's support to protect their island.
"We cannot do this on our own," he said. "Because the mining company clearly does not recognize our economic, cultural, and social rights, we are seeking the government to help us to permanently ban mining activities from entering and further destroying our home.