By Gaia Mandala
Environmentalists under the banner of Tampakan Forum held a protest outside the building of the National Commission for Indigenous Peoples (NCIP) central office, October 23, denouncing the agency's continued inaction on the killings and other human rights violations against Indigenous Peoples across the country.
CRIMSON RAGE.Protesters show their 'bloodied' hands symbolizing deaths among their tribes from the violence and militarization brought by mining activities in their communities, and how the office of the National Commission for Indigenous Peoples's alleged silence on the killings render them as guilty as the perpetrators of neglect and inaction.
Ed Garingan, anti-mining campaigner of Philippine Misereor Partnership Incorporated (PMPI) added that the NCIP should be alarmed on the continuing militarization of various ancestral domain areas in the countryside.
During the protest, environmental groups Alyansa Tigil Mina (ATM), PMPI, and Lilak – Purple Women's Action for Indigenous Women's Rights, and representatives of different IP tribes including B'laans, Teduray, Dulangan Manobo, Higaonon, and Lambangian lighted candles in honor of the slain IPs. The group also poured stage blood in front of the NCIP building, a symbolic representation of blood shed by the victims of human rights violations in provinces affected by mining.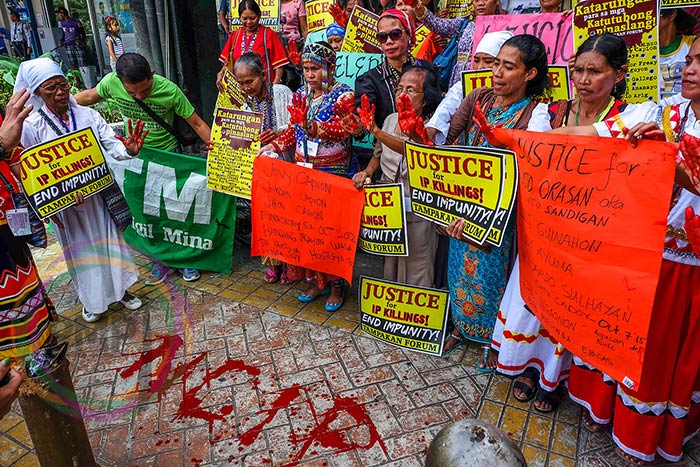 COLLECTIVE ACTION.Indigenous peoples groups from different tribes in the Philippines gather by the entrance of the National Commission for Indigenous Peoples-Central Office along Quezon Avenue, in Quezon City, to protest the agency's silence amid human rights violations and killings in IP communities.
"We have yet to hear strong protests from the side of the NCIP whenever the military tries to encroach in IP areas. They have to be at the forefront in defending the rights of the IPs and they cannot just remain silent in all of this," he added.
Rubina, a B'laan, made a speech detailing the killings in their area and shared how they lost even their father in the battle against mining.
"Until now, we don't see justice to all our dead. Time is dragging by, and we are losing more and more people. I call you to hear our stories and the truth of our sufferings," she said.
Rubina brought her mother in the protest to indicate their support to other slain members of different tribes to achieve justice.
"We believe that the NCIP does not have anything to do with the killings but their inaction, especially when combined with the dubious clearances given to development aggression projects, leaves a trail of blood at their doorstep," Jaybee Garganera of Alyansa Tigil Mina explained.
Garganera added that their group demands NCIP to 'stand for the IPs against all odds" and be ready to challenge even the powerful Armed Forces of the Philippines (AFP), which is necessary to be instrumental in seeking justice for the indigenous peoples.
"Without such a character, the NCIP only becomes an office responsible for the decision which mining, logging, or energy companies will be permitted to grab the land of indigenous peoples," he concluded.