he largest mobilizations for Climate Justice around the world has started.
The Philippine Misereor Partnership Inc. (PMPI), its partners in NCR, thousands of faith-based institutions, and environmentalists showed great force of unity amid Global Climate March ban in Paris due to security issues.

"We are in the throes of a historical juncture that is irreversible if we do not act now and acknowledge that each person and/or country has varied responsibility to the destruction of environment. It is therefore a must that those most responsible should commit greater to climate change causes and support those that are most vulnerable to the impact of climate change. This is not only about generosity or compassion. This is about justice," PMPI National Coordinator Yolly R. Esguerra said.
The church, the academe, environment, and rights groups collaborate together to be part of unprecedented global climate mass mobilization on November 28. Series of mobilizations from all parts of the country and the world will follow.
"The holy father told us that he wants the church to go to the streets. We did. And we will do it again to show our care for our common home, to protect the environment we live in. This is the Laudato Si in action," said Father Edu Gariguez of Catholic Bishops Conference of the Philippines  National Secretariat for Social Action (CBCP-NASSA).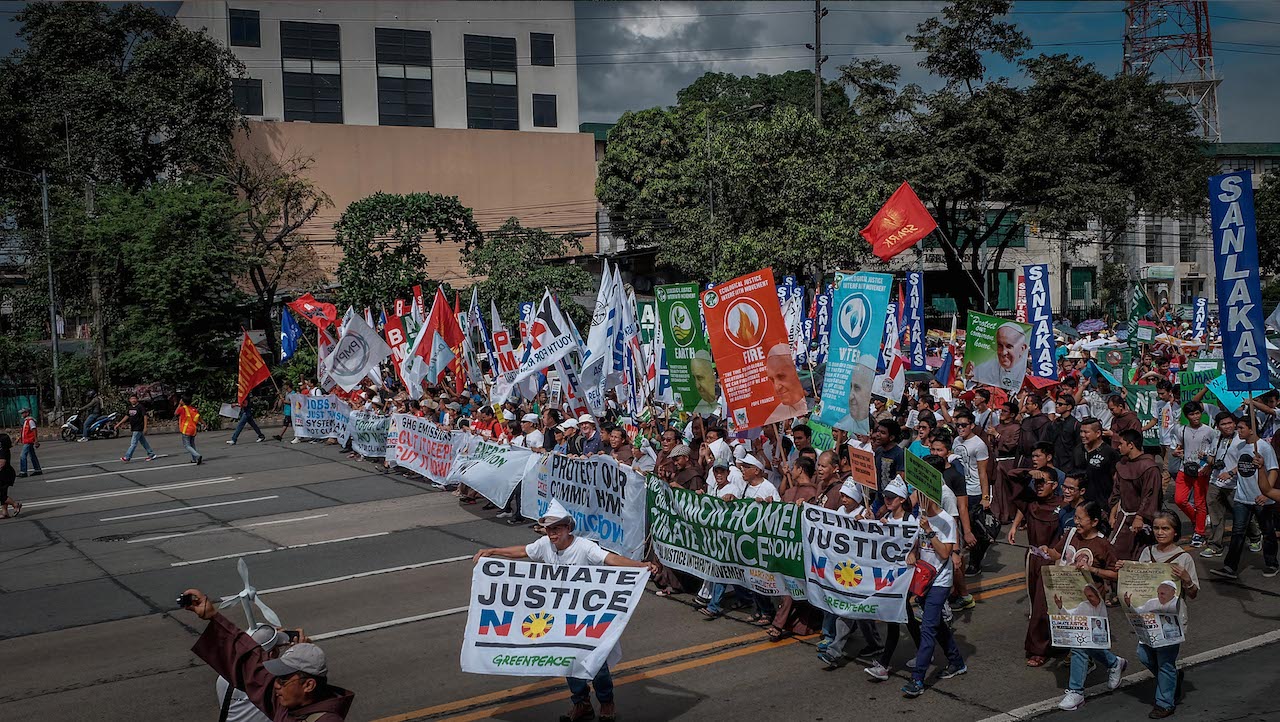 As was the previous Eco-Walk in October, six groups composed of thousands of supporters of the Global Climate March started from different major highways in Quezon City carrying 6 banners. This time the theme includes Energy transformation; Rght to food, land and water; Justice and reparations for affected peoples; Protect our common home (after Pope Francis's encyclical Laudato Si); Jobs and just transition, and youth. The groups converge at the Quezon Memorial Circle for a short programme.
Philippine actor and Commisioner-at-Large of the Philippine Youth Commission Dingdong Dantes encouraged everyone by showing his support during the short programme after the long March, along with hundreds of participating organisations.
The People's Climate March was set to happen in Paris to pressure the world leaders before the convergence in Paris on December. Millions of people from around the globe will march in the steers of thousands of world cities, aiming to break last year's record for the largest Climate Justice mobilisation.
"Ayan na ang Sambayanan!"
"We remain steadfast in our call and we are pressuring the world leaders to remain true to their promises and concern that we must act on cutting our carbon emissions," said Candy Hidalgo PMPI Project Officer for Thematic Concerns.
PMPI has been a staunch supporter of renewable energy and campaigns against destructive and extractive industry that destroy the environment.
"If we fail to make decisions for the COP21, it will be too late. We are all inter-connected and it is clear that we all see that. What happens in one community will eventually affect others. This only shows that united we must all to claim Climate Justice," Hidalgo added.
Indeed thousands of members of faith groups, the academe, indigenous groups, women's and youth organisations, eco groups, farmers, labourers, community organisations, as well as families march amid the overcast skies.
"What happened to us just happened in Brazil," said Beth Manggol, the Executive Director of Marinduque Center for Environment Concern sharing their experience on the collapse of the tailings dam of a mining company that killed Marinduque's major river and several of its tributaries and damaged adjacent farms. "And it will happen to all parts of the earth if we don't fight to protect our environment. Mining companies will continue to take advantage of communities' weaknesses."
She shared that they have respective campaigns in their island to show they never stopped campaigning against mining and that the MACEC and its community partners in the island remain persistent in seeking justice from all the mining disasters in Marinduque.
"The Global Climate March is an opportunity to show the world that we are all are standing up for all the communities suffering from mining activities not just in the country but also all over the world," she added.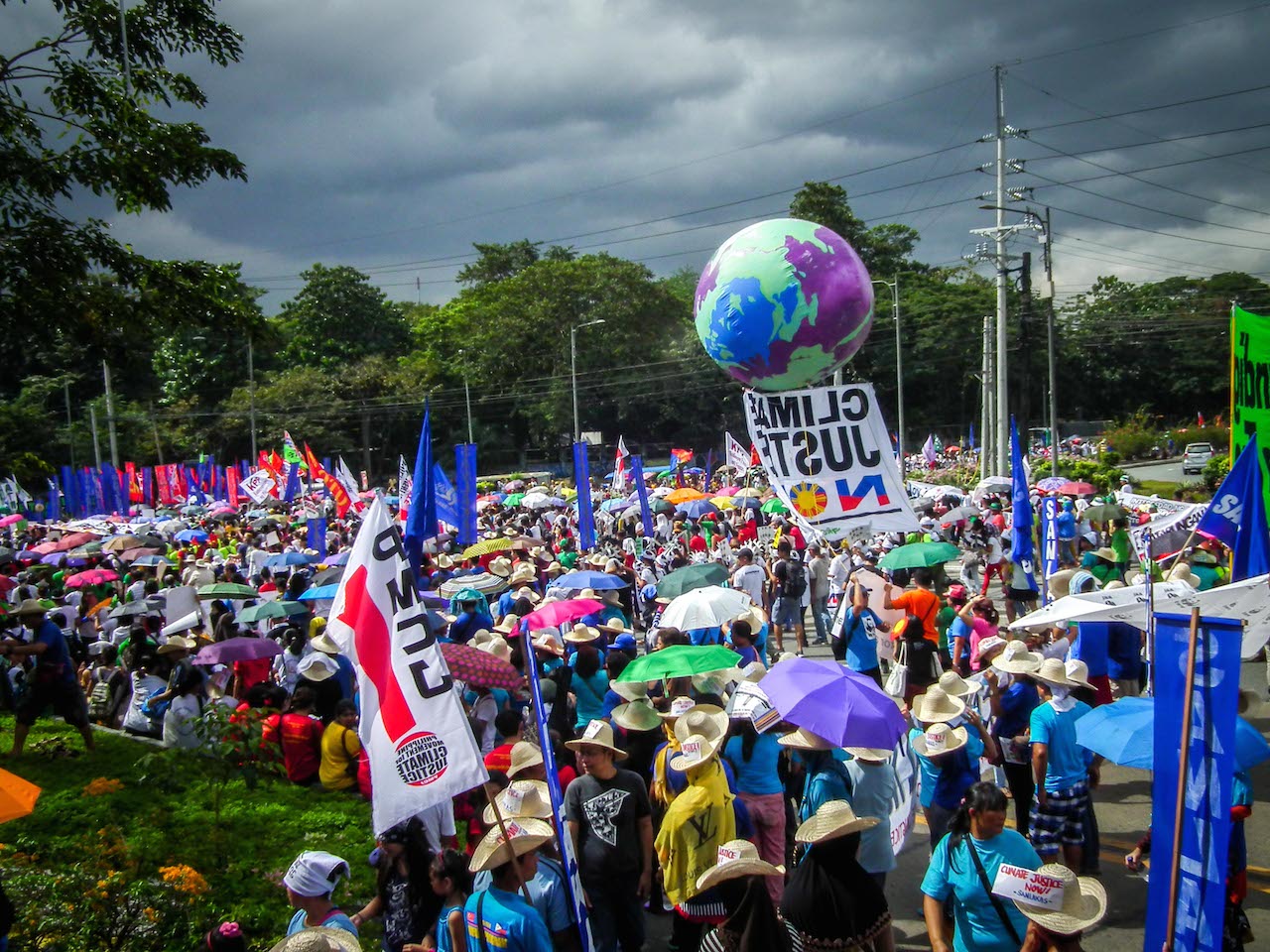 Series of activities
Groups in the Philippines have organised activities across the country. Below are the schedule from the Ecological Justice Interfaith Movement, which is composed of various religious groups from different creeds and civil society organisations (CSOs).
•   November 24-28, Southern Luzon to Manila: The People and Environment Against Coal-based Energy (PEACE) Caravan, led by coal-affected communities, to stop the proliferation of coal and transform the energy system in the country. It will start from Semirara and Caluya Islands, Antique; going to San Jose, Mindoro; Quezon; Batangas; Laguna; and finally in Malacañang.
•   November 28, Eastern Visayas: Mobilizations in the Leyte cities of Tacloban and Ormoc will be held to remember those who lost their lives during super typhoon Yolanda (Haiyan).
•   November 28, Cebu: The People's Climate March Sugbu/Cebu will start at mid-afternoon at the Fuente Osmeña Circle to Basilica del Santo Niño, where a mass for the environment will be held and a unity statement will be read.
•   November 28, Mindanao: Simultaneous mobilizations will be held in the Mindanao cities of Davao City, Davao del Sur; Cagayan de Oro, Misamis Oriental; General Santos, South Cotabato; Malaybalay, Bukidnon; Ozamis, Misamis Occidental; Pagadian, Zamboanga del Sur; and Tangub, Misamis Occidental.
•   November 28, Quezon City: The March for Climate Justice Pilipinas to Quezon Memorial Circle.
•   November 29, Manila: A march and mass will be held at the Rajah Sulayman Park in Malate, led by the Roman Catholic Archdiocese of Manila and the Global Catholic Climate Movement.
•   November 30, Manila: Labor unions will hold their annual Bonifacio Day mobilization, also bringing the theme of climate justice.
PMPI, a network of 300 civil society and faith-based organizations engaging in development work across the country, is a convenor of EcoJIM.