A network of peace advocates expressed hope in the passage of a comprehensive Bangsamoro Basic Law come September this year.
"It is a matter of an open dialogue," Philippine Misereor Partnership, Inc. (PMPI) national coordinator Yolly Esguerra said. "We are positive because many provisions we have lobbied for were included and approved by the ad hoc committee, when the House has concluded in May."
Esguerra is one of the panelists during the press-con. Jasmine Galace of We Act 1325, Muss Lidasan of Al Qallam Institute, and Gus Miclat of Initiatives for International Dialogue, AOP lead organization, were also part of the panel.
Quezon City-6th District Rep. Jose Christopher Y. Belmonte and Rep. Ibarra Gutierrez of Akbayan were also present in the press-con. The solons received the lobby paper of AOP.
"This is not an easy process," Congressman Gutierrez said. "But the more groups are engaged in the process, the more the Congress will try to achieve a good BBL that will bring just and lasting peace in Mindanao."
AOP is composed of peace networks and civil society groups, including PMPI.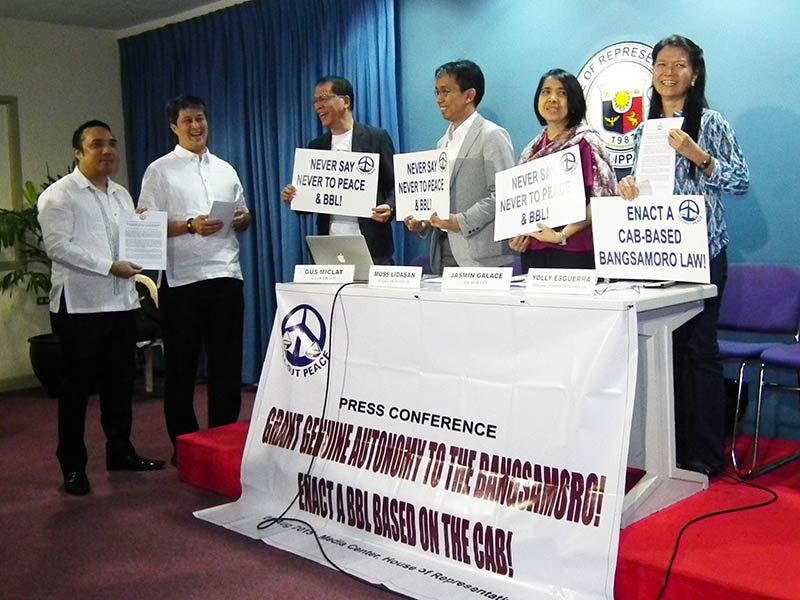 Shooting for the Moon and Stars
Miclat explained that AOP's proposed enhancements will complete and sufficiently realize the call for sustainable and meaningful autonomy in the Bangsamoro.
Some of the crucial and relevant provisions of the original draft bill, he added, were either deleted or diluted.
"BBL is a social justice instrument. For this we aim to shoot for the moon and stars: the passage of a CAB-based BBL," Miclat said.
Galace, on the other hand, stresses that women's human rights in all aspects "should be a primordial consideration in the crafting of policies and the implementation of programs, projects, and activities in the Bangsamoro."
When asked by a member of the media, Galace also pointed out the constitutionality of the BBL, which has been affirmed by Hilario Davide, former Chief Justice of the Supreme Court of the Philippines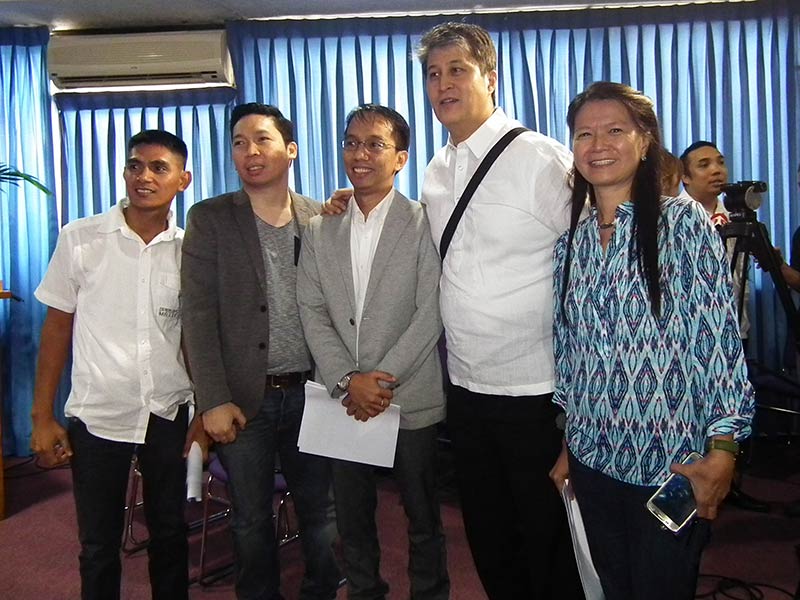 Inclusive Development
Datu Muss Lidasan, a member of the Royal House of Maguindanao and the executive
director of Al Qalam Institute for Islamic Identities and Dialogue in Southeast Asia, has shared that BBL will facilitate development, especially to Muslim education.
"Bangsamoro is not a political group, we must clarify that," Lidasan said. "Upon the passage of the BBL, it does not mean that politically motivated extremist will grow stronger. In fact, BBL will help us build and improve our madrassas. This will promote improved dialogues, which in turn facilitate lasting peace."
Esguerra, in a statement, added that BBL goes hand-in-hand with the Pope's encyclical, in spreading integrity of creation and care for our common home.
"CAB-based BBL will aid development for all, including indigenous communities," Esguerra said. "In Pope's Laudato Si, the Pope has recognized the lead of indigenous communities in environmental protection. Land for them, he said, is not a commodity but rather a gift from God. They love their ancestral domain. We only see it just to uphold IPs, including Non-Moro IPs, fundamental rights and authority over their ancestral domain and natural resources."
Esguerra calls the present administration to focus its remaining 9 months towards promotion of authentic policies that can promote peace and genuine development
"I believe several of our Congressmen are still willing to listen. We just need to continue the dialogue with them" she said.
Let BBL Facilitate Care for Our Common Home by Philippine Misereor Partnership Inc. (PMPI)
Stewardship-not-ownership-Let-BBL-facilitate-care-for-our-common-home