Representatives of various groups assembled at the the Justice Hall of Taguig City to show their support and bring their calls, as four PMPI key officers file for bail. PMPI faces Internet Libel or E-Libel raps, after the group published a report regarding a mining company's operation amid the suspension of all mining activities in Manicani Island, Guiuan, Eastern Samar.
Groups bring calls to "court"
Dev't network facing E-Libel raps files bail
TAGUIG CITY – Representatives from various rights and faith groups assembled at Taguig Metropolitan Trial Court, Friday, as staff of a civil society organization facing Internet Libel raps voluntarily surrender and file for bail.
Four members of the Philippine Misereor Partnership Inc. Secretariat named by Hinatuan Mining Corporation (HMC) as respondents to a libel case filed for bail after Taguig City prosecutors elevated the case, recommending indictment.
Faith-based institutions, sectoral organizations show their support to PMPI National Coordinator Yoly Esguerra and three other key personnel to the organization's Anti-Mining Campaign, bringing placards of their organizational advocacies that are relevant to the case.
More than forty people, including clerics, youth, women, and legal groups formed a silent assembly at the entrance of the Justice Hall, which was followed by a prayer to bless the group and their pending case.
PMPI faces Cyberlibel for reporting the HMC's continued operation in the island of Manicani, an island in Eastern Samar, amid suspension order.
More than a legal battle
"Advocating for the protection of the environment is not a crime. We believe that PMPI is true to its vision of inclusive development among communities without sacrificing their healthful environment, which is the peoples' right," said Mario Maderazo, PMPI's legal counsel.
He added that on the other hand, the E-Libel is instrumental in harassing environment groups from public participation, promoting public welfare.
"This is what we call a SLAPP case. Good thing is that this will only fuel these groups' passion to do our mandate: protect the vulnerable and promote social justice, whether it is an issue of environmental destruction or curtailment of freedom of speech," said Marnie Tonson, a member of the Promotion Internet Freedom Alliance (PIFA) and part of PMPI's legal team.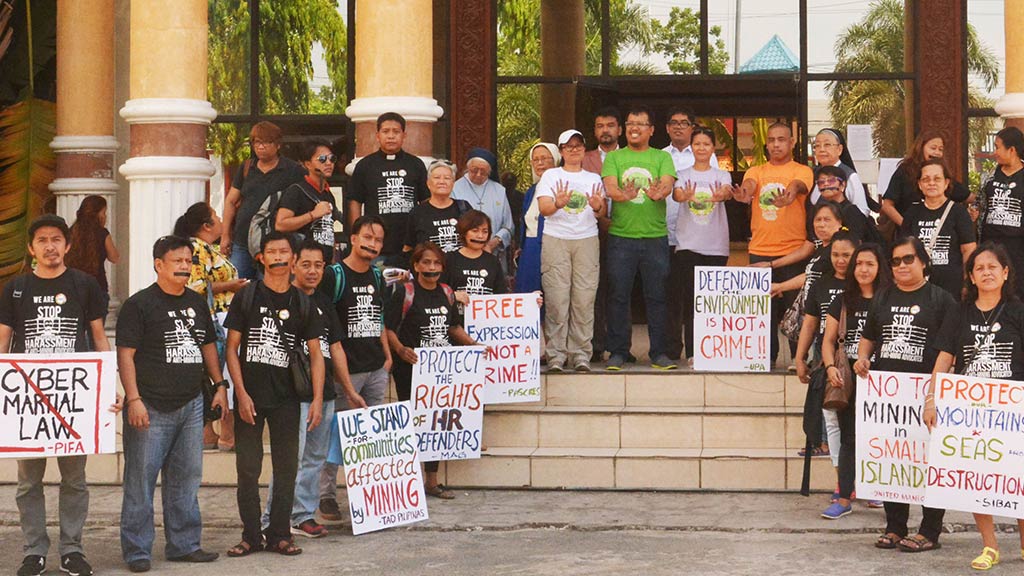 In a statement shared by Pilipina, Inc., Executive Director Beth Yang expressed support, emphasizing that PMPI's publication of the report, which HMC insists as libellous, is "protected by the Constitution as an exercise of the civil and political right to free expression. It is part of its advocacy to expose the wanton destruction of the environment and negative impacts to peoples and communities by large-scale extractive industries."
Yang, in the statement, called the attention of the Department of Environment and Natural Resources, reminding the agency of its suspension against "All mining activities in Manicani island."
Aside from Pilipina and PIFA, peace and development groups such as Gaston Z. Ortigas Foundation, Inc., Balay Rehabilitation Center, CODE-NGO, Medical Action Group were also present. The Social Action Center of Borongan, Eastern Samar, Oblates of Note Dame-Hesed Foundation, TAO-Pilipinas, United Manicani, Urban Poor Association, Community Organizers Multiversity, and the NGO arm of National Anti-Poverty Commission were also at the assembly to show support.
Motivation
"This case will not keep us from working even better to serve the vulnerable communities, urban and rural areas who are faced with development aggression," Esguerra said.
If anything, she added, the case is an indication that what the organization does for the community creates such impact to groups involved in extractive industries.
"We are very thankful for the support of our partners who are representatives of PMPI's advocacies. Their presence and their bringing issues to the fore are what matters most in the development work: continuing to push for what we believe in," she said.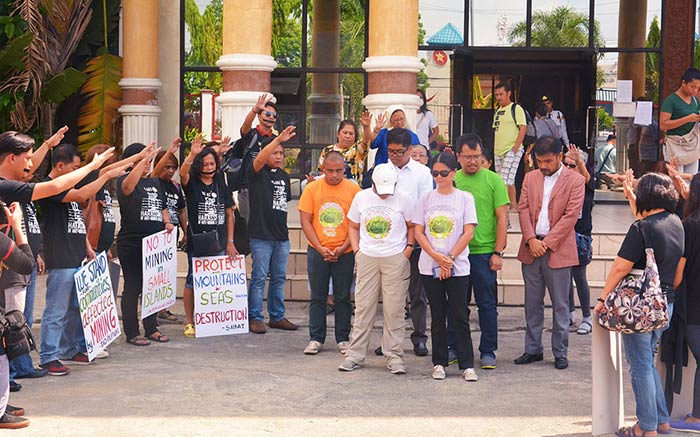 Several issues have surfaced during the silent assembly. These includes rights to internet freedom, protection of small island ecosystem from mining, protection of rights and green groups from harassment, and support for the communities affected by mining.
In support, several partners of PMPI has also changed their Social Media Profile to support PMPI's case.
"Last year, Pope Francis have expressed His Holiness' support to mining-affected communities, and called the attention of the big mining companies to have a radical paradigm shift. Only this week, President-elect Rodrigo Duterte shared almost similar calls: to put a stop on massive extractive mining. Maybe it is time that the whole country look into the issue," Candy Hidalgo, PMPI's Deputy Coordinator, and also a respondent to the case, said.
She added that PMPI has written a letter to the President-elect to share points the country's president must immediately look into, to protect the environment from the destructive industry.