At least 14 representatives from 8 different PMPI Clusters attended the Project Implementation, Monitoring and Evaluation Training held at Camelot Hotel in Quezon City, on May 26-27.
Participants from the Northern Luzon, Eastern Visayas, Zamboanga City (ZAMBASULI), Zamboanga del Norte (DOPIM), Bicol, Southern Luzon, Cotabato (KIDMACO) and the National Capital Region (NCR) work together with the PMPI secretariat for the fourth phase of the Anti-Mining Campaign. The workshops, orientation, and discussions were headed by AMC project officer Ed Garingan and advocacy officer Victor Morillo.
The main objectives of the two-day activity is to orient representatives from the six Focal Organizations (FOs) and the seven pilot/priority Site of Struggles (SoS) on PMPI's anti-mining campaign for 2015 to 2017; Help the local partners across the region to re-understand the PMPI anti-mining campaign framework; and to increase the knowledge and skills of the FOs and SoS on project management specifically on participatory planning and monitoring process and the Outcome-Impact Orientation.
In her remarks, PMPI National Coordinator Yoly Esguerra expressed hope on even better cooperation, partnership and improved vigilance of communities against mining, as the country is faced with bigger challenges in the years to come.
The Phase 4 of PMPI Anti-Mining Campaign will run for 3 years (2015-2017).
Representatives from different PMPI clusters work together during workshop on Systems Thinking, one of the main sessions of PIME Training, 26-27 May 2015 at Camelot Hotel, Quezon City.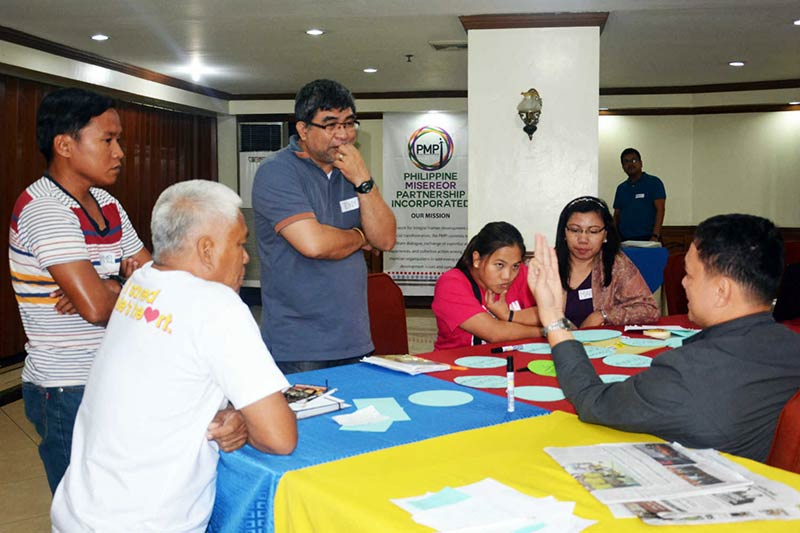 At least 14 representatives from 8 different PMPI Clusters attended the Project Implementation, Monitoring and Evaluation Training held at Camelot Hotel in Quezon City, on May 26-27