WE, the Philippine Misereor Partnership Inc. (PMPI) is a network of 250 non-government organizations, people's organizations, and social action center across the Philippines, working on several thematic issues on sustainable agriculture and fisheries, socio-political and environmental advocacy.
WE believe that the current performance of the mining sector in terms of share in the government's revenue through taxes provides miniscule or negligent contribution to our economic recovery. Historical data from the Bureau of Treasury shows that from 2013 – 2018, the mining sector did not breach the 2% share to the Total National Government Revenues from Taxes (table below).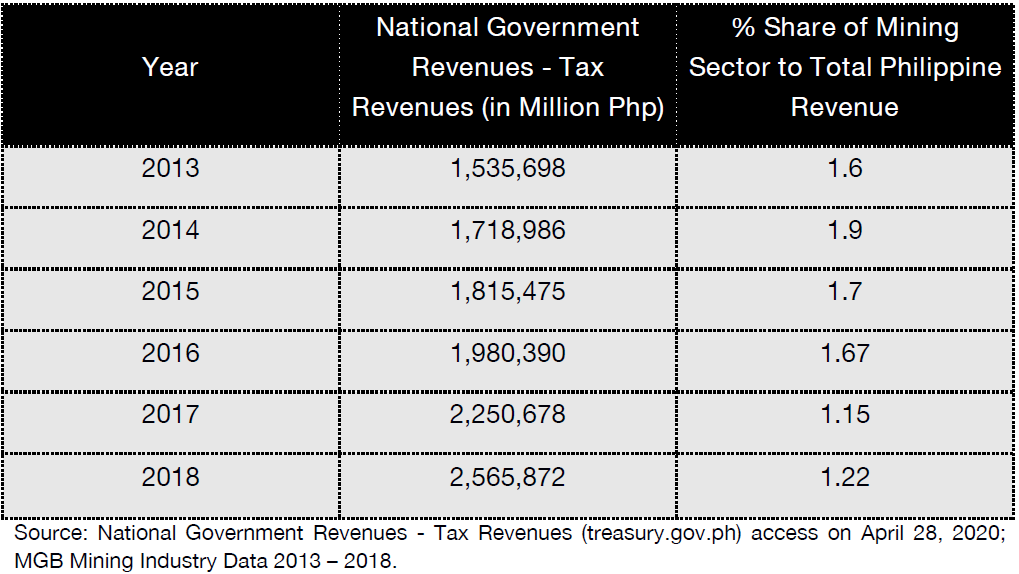 Mining corporations have already enjoyed so much investment incentives under the Investment Priorities Plan (IPP) from 2014-2016, and 2020 per Omnibus Investment Code of 1987.
WE believe the current rate of 4% per TRAIN Law is not enough government share for the minerals the public owns, and more so, as a means to fund for the government's COVID-19 recovery stimulus. And, with the Corporate Recovery and Tax Incentives for Enterprises (CREATE) Act, the amount the government supposedly gains from mining is nullified because of the reduction in corporate income tax from 35% to 25%.
Even as we do not agree that mining industry should be supported and pursued as a major strategy for economic recovery, as it is clearly unsustainable in the long run, we support the proposed tax percentage of 10% indicated in the Alternative Minerals Management Bill filed Cong. Lawrence Fortun of the 1st District of Agusan Del Norte. The 10% tax rate will be an effective rate for the government's pursuit of collecting much needed revenue from mining corporations for its COVID-19 recovery program. Anything less than this is ineffective.